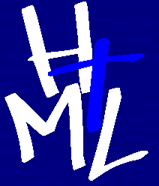 Resources
Now that you've graduated my course, it's time to move on to bigger and better things. I know, I know, it seems just like yesterday you were a web design infant, eating you're strained peas and mashed carrots. Ah, the good 'ole days. The following sites will help you on your way to complete Web Masterdom. These sites have been hand-picked by yours truly for you enjoyment. Bon Appetite!

Webmonkey
This is the page where I learned to make web sites. This is a priceless resource for all webmasters.

Color Codes
This nifty page from Webmonkey gives us a full range of color codes to work with. Simply use the digits beside the color of your choice in place of the color words. (ex. Use "#9900CC" in place of "blue")

HTML "Cheatsheet"
This is a great resource. If you forget an HTML tag, this is a full list of them. I use this site all the time!

Flaming Text
This site has some really cool graphics for you to use on your page.

Webpagedesign.com.au
This page has everthing from Flash intros to backgrounds for you to use.

Prodraw.net
A source for amazing graphics.

Web Studio
This is a link to download an HTML editor I used to create this page. (It's free!)

Google
THE BEST SEARCH ENGINE IN THE WORLD!!!

WbMztr Zack's Blog
My blog. Go here to get inside my head! Then again, it can be scary in there.

Well, that concludes my list of great resources for your enjoyment. It has been a pleasure, thank you, and goodnight.

Cue "Sentimental Reasons"